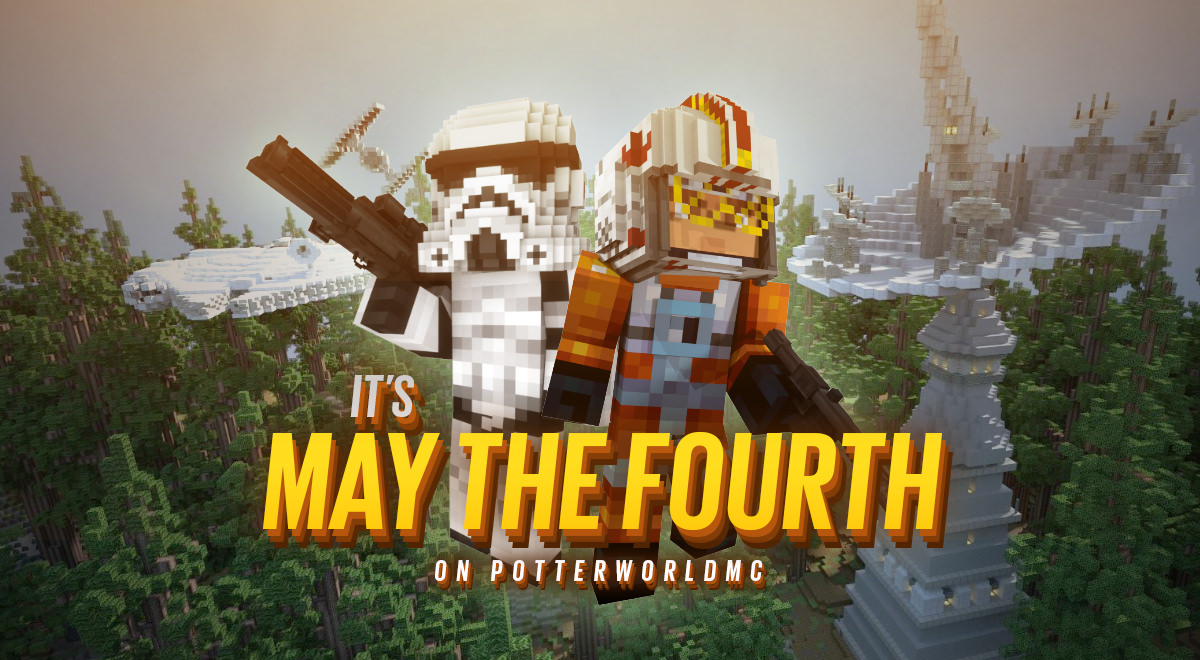 Join us in celebrating one of our favorite nerdy holidays! Play two of our exclusive minigames and earn tokens to buy souvenirs.

Joining, Leaving, and Stats
There will be a spaceship at the Castle Boathouse and an NPC where players can join the games. Players can also do `/games` to access the same menu.
If you wish to leave a game, you can simply do `/leave`
To check your game states, do `/game stats` or '/gs'
Star Racing
You will race on Speeders against your fellow students! First person to the finish line wins. During the race there are checkpoints that save your progress, dying will send you back to your last checkpoint that you reached. Checkpoints also have a chance to give you a random item or gun that you can use against other speeder racers!


Items:
• Blaster: Laser shot that will dismount other racers that you hit.
• Heat -Seeking Missiles: Missile that will lock on and follow it's target. You must have target in view when shooting to have it track the racer. Impact damages and dismounts players.
• C4 Bomb: Big explosion that will damage and dismount racers.
• Thermal Grenade: Small explosion bombs that will dismount racers.
• Flash Grenade: Small explosion bomb that will blind racers that are affected.
• Speeder Shield: Drops a physical energy shield that will block missiles, shots,and block other racers behind you.
Star Battle
Choose a side; Rebels or Imperials! You will begin with the basic Rifleman kit. You can use credits (earned from defeating other players) to unlock the other kits.
Class Selector
The Rifleman Kit is the default kit all players will get to start. Once a player earns enough credits, they can unlock the ability to use the other kits available. All of the kits only counts for each game, so you'll have to unlock new ones everytime you play a new match, but the prices are very low, so it should be easy!
Rewards - Star Tokens and Credits
Credits are an in-game exchange currency that can be used to purchase things to use in the minigame, like flash-bombs and stun grenades. You can buy those things at the Arsenal Vendor in the minigame.
Star Tokens are an RPG currency that allow players to purchase souvenir items for the main server.
Credits - 5 per kill


Rewards - Item Rewards
We've also introduced a few new rewards as well as some of the old ones! These are the following rewards:
Hats:
May 4th Emote Package:
Speeder Race
Force Knight Training
The Force
Droids
Shoot first
New Ones
Sabers:
Unlike last year, these sabers will be real sabers instead of the toy ones! They'll be the exact same from the previous event, but will only contain one cosmetic spell.
Guns:
We've also added all of the weapons to the rewards NPC! Using one of them will fire of a laser-beam like in the game.
Star Tokens
Participation = 3
1st Place = +9
2nd Place = +6
3rd Place = +3


---

May the Fourth be with you!